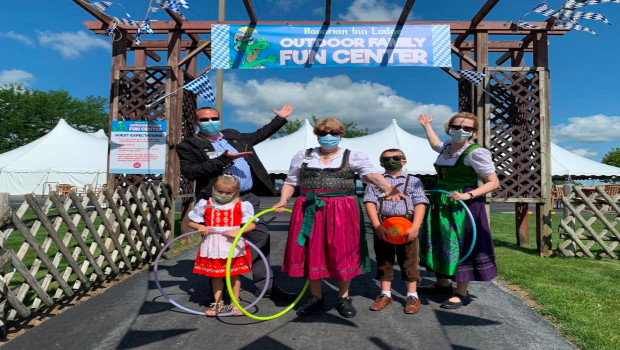 (From Left) Michael Zehnder, Victoria Zehnder, Judy Zehnder Keller, Jacob Zehnder and Martha Zehnder Kaczynski at the new Bavarian Inn Lodge Outdoor Family Fun Center
Families staying or planning a day trip to the Bavarian Inn Lodge can now experience an Outdoor Fun Center as a part of their visit to Frankenmuth.
Located on the Lodge property west of the main entrance, the newly created Outdoor Fun Center features more than 50 video games, large sandboxes, yard games, outdoor dining with a fresh squeezed lemonade stand, bar service and a prize redemption area for the games.
The center will be open daily throughout the summer and fall from 9 a.m. to 10 p.m. Each night there will be live nightly entertainment and on Fridays and Saturdays, other family activities at the Lodge's outdoor Schnitzelbank Biergarten from 6-8 p.m.
Reopened on July 1, the Lodge continues to provide the Frankenmuth community and visitors from across the country with a fun, entertaining family experience for young and old alike. Lodge dining is available at both Oma's Restaurant and the Lorelei Lounge. The indoor Family Fun Center amenities of the Lodge remain closed due to pandemic health guidelines.
Guests should note that social distancing and face covering guidelines remain in place for all guests at the present time.
Bavarian Inn Lodge
Nestled along the Cass River in Frankenmuth is one of the state's largest indoor water park hotels. The Lodge has 360 European-themed guest rooms, including whirlpool and family suites, an adult-only pool and whirlpool, two gift shops, two lounges and two restaurants — all under one roof. The expansive 35,000 square foot Family Fun Center houses two thrilling water slides, three pools and two whirlpools, over 160 video and redemption games, a two-level children's play village and Willy's Kingdom indoor mini-golf course. Guests can also enjoy live, nightly entertainment year-round and test their own musical skills during weekend family karaoke shows. In over 30 years of business, the Bavarian Inn Lodge has been an important destination for travelers, evidenced by the 1.25 million room-nights that have been booked there since its opening, along with its top rating on TripAdvisor®. Learn more at www.bavarianinn.com.